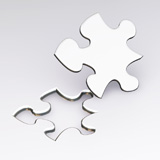 Introduction
Maths Puzzles for KS3/KS4 is a collection of mathematical puzzles, tricks and challenges. It is intended for maths teachers to use with students at KS3 and KS4/GCSE.
Maths Puzzles for KS3/KS4 is suitable for students of all abilities, and can be particularly effective for engaging students who lack motivation. By encouraging students to think laterally and analytically, the puzzles are ideal for capturing students' interest, whilst also reinforcing key skills and stimulating discussion.
Although based on material first produced in 1933, the approach in Maths Puzzles for KS3/KS4 is still relevant and applicable today, and the materials are referenced to the

National Curriculum at KS3 and KS4.